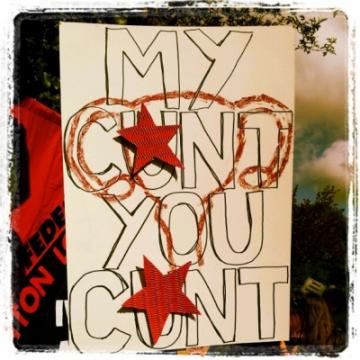 On Saturday 28 April, anti-abortion group The Society For Protection of Unborn Children (SPUC) are
holding vigils around the country
. This nationwide action marks a significant escalation in anti-abortion activism, which has risen to prominence recently with US-style abortion clinic protests. With women's services already under attack from austerity, this movement needs to be opposed.
SPUC is a right-wing, reactionary, religious fundamentalist organisation. This can be seen even in the fact that, despite being a supposedly single-issue organisation, it has launched a "
campaign to uphold real marriage
." Although it tries to tie this in by claiming that "unborn children are much safer within marriage than outside marriage," a spurious claim at best, the focus of this campaign is same sex marriage and underlines the group's broader politics.
Returning to their anti-abortion stance, SPUC are one of a number of groups seeking to "educate" the public on abortion. But, as
the Guardian recently revealed
, they are actively peddling misinformation, including the nonsense that abortion causes cancer. All the more disturbing when you consider that the target of this propaganda campaign is schoolchildren.
I am absolutely and unrepentantly pro-choice. There is to my mind no rational reason to deny women complete autonomy over their own bodies and their own reproductive organs. When they don't, the consequences are horrendous - with
over 70 thousand maternal deaths and 5 million disabilities per year
(PDF), globally, as a result of unsafe, illegal abortions. Meanwhile legal abortion, performed by trained medical personnel is
one of the world's safest procedures
(PDF). Making it illegal won't make it go away, and if the anti-abortion campaigners really are "pro-life," they may want to consider the fatal consequences of the laws they seek to impose.
The real answer to abortion is greater access to proper education about sex and contraception. As
I noted a few years back
, this not only improves sexual health but also results in considerably less unwanted pregnancies. But, again, we suffers a problem of definitions. Just as "pro-life" laws are resulting in thousands of deaths worldwide, so the education and contraception that would prevent abortion are opposed by the "anti-abortion" lobby.
According to
SPUC
;
Contraception does not reduce the number of abortions. Countries in the western world have freely available contraception as well as widespread abortion. Ms Jean Malcolm, director of a Brook Advisory Centre, told the Edinburgh and Lothian Post: "It's partly because of a greater availability of contraception that there are more pregnancies. I suppose it's almost inevitable." (11 January 1992)

Contraception may also result in an anti-child mentality, such that unplanned babies are regarded merely as the undesirable results of contraceptive failure.
So, I guess, we should all just get to making babies in heterosexual marriages then...
I've written before about how "
God's culture warriors are also the state's foot soldiers
." It is no coincidence that we're seeing US-style anti-abortion protests at a time when abortion services, and other health services, are under threat as part of the austerity agenda. Joseph Kay discusses this as well in "
bodies as a site of class struggle
."
Which brings us back to SPUC's vigils. In themselves, they are relatively harmless - no different than the God botherers in any City Centre who most people ignore and gangs of kids take the piss out of. Except that they're helping the government justify policy which is extremely detrimental to women, and outside abortion clinics they're getting in the face of and harassing women who already have enough to deal with without some zealot telling them they're going to go to hell (and get cancer) as a result.
That's why a number of these vigils will be met with opposition, and that number will hopefully grow before Saturday comes around. Especially in places (like Liverpool) where the anti-choice movement is rearing its head for the first time, its message needs to be drowned out in defence of reproductive autonomy.
Here are the details of counter-protests organised so far. If there's one near you, go along. If there's not, but there will be a vigil that needs countering, organise it yourself!
Bath
: 10.30am, Bath Abbey
Brighton
: 10.30, Preston Park
Liverpool
: 10.45am, Childwall Health Centre
Edinburgh
: 11am, Lothian Road/Lauriston Place
Sheffield
: 10.30am Vulcan Road
Cardiff
: 11am, location to be confirmed
Newcastle
: 11am, Tyne Bridge
Oxford: 12pm, Cornmarket (there's no SPUC demo in Oxford, but it's a good day to do some pro-choice leafletting anyway!)
Stevenage
To add your event to the list
email Abortion Rights
with the details or
contact them on Twitter
– they're happy to spread the word!