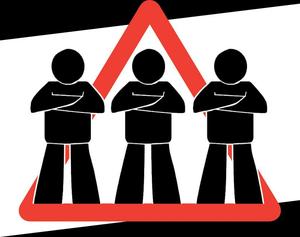 On 31 January, workers in HM Revenue & Customs are
taking strike action
over the threat of privatisation. The department is bringing in private contractors Sitel and Teleperformance to hire temporary staff at vastly reduced rates of pay to take calls, offering the spectre of privatisation.
Previously, this dispute has been handled quite badly by the Revenue & Customs Group Executive Committee. As
I reported
after a three-hour walkout in December, the initial intent was to see how the trial went and raise the prospect of industrial action at the end, once the contractors were safely embedded in HMRC. Anger from contact centre workers forced them to ballot, and even then they tried to water the matter down by
calling action over two disputes at the same time
.
One significant effect of this was that the sickness absence dispute saw low support beyond the directorate taking action over privatisation. This was compounded by the fact that, after
the initial action in June
, strikes were
suspended on the basis of "moving towards a resolution
" which turned out to yield nothing. Having completely demobilised this dispute it has now been effectively dropped - with the contentious procedures still standing. Nor is this situation alien to PCS members in HMRC, with the union
balloting over Christmas
on an agreement over policies their members had
taken industrial action to oppose
, the timing forcing through a yes vote on an incredibly low turnout.
The prospect of a full day strike sees those who don't work in the directorate which will be receiving the private contractors having to cross the picket line of those who do. The ballot for industrial action and the action itself both being very clear on this point. During short walkouts, this wasn't too significant a problem, and there was a strong showing of solidarity in mixed directorate buildings, with other workers joining the walkouts. Nonetheless, in doing this PCS has put staff in a very difficult position.
From a personal perspective, principles mean that I would never cross any picket line, no matter whose it was. But obviously that sense of class solidarity doesn't exist everywhere, and the threat of the anti-union laws on top of this mean a lot of people will still be going in. At a time when we should be generalising disputes and encouraging greater solidarity, PCS has effectively narrowed this action as far as possible and encouraged a number of its members to cross its own picket lines. Though far from atypical behaviour, this is still utterly appalling.
It will be the task of those more militant workers outside of the strike to agitate for unofficial action in support where possible. But it will also be the task of all workers to return the solidarity of those who stay out despite the law. Any conduct charges brought against workers for supporting strikes should be met not only with representations to challenge them, but picketing and direct action against those offices where charges are brought.
Returning to the privatisation issue, it really can't be overstated how important this is. Not only does this undercut contact centre workers, driving down wages, but it puts jobs at risk. At a time when massive cuts are throwing government workers on the dole, low paid private sector staff will be taking the work that they could have done to avoid redundancy. Meanwhile, any hope that newly employed temporary staff have of retaining their jobs in the long term is lost if privatisation isn't defeated.
But this is not just about workers in HM Revenue & Customs.
The CBI has been remarkably candid
in admitting that the recent attacks on public sector pensions were a vital first step in opening up public services to private contractors - and success in privatising tax jobs will show give them confidence that the unions can be defeated when they privatise vital services wholesale.
An attack on one group of workers is an attack on all of us. We need to show solidarity with striking workers at HMRC on 31 January, and make a stand against the bosses' assault on the services we all depend on.
We should also support initiatives by militant workers to go beyond the limitations of PCS and take control of their own struggle - a key example of which being
the call out for a national week of action against privatisation
on 13-19 February. Voted for by a strike assembly in Bootle, this initiative demonstrates that workers can fight back without waiting for instruction from above.
Details of HMRC picket lines in Liverpool and Bootle can be found here.