Today, the branch of PCS which I belong to had it's Autumn General Meeting. We had our main AGM in February before PCS Conference, but today offered a chance to report back on how things have progressed since then as well as to keep members of the branch informed and involved. High up on the agenda, as I'm sure you can imagine, was November 30.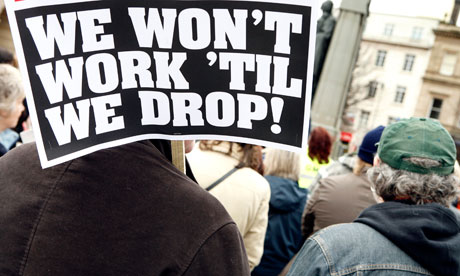 My branch's campaigns committee, of which I'm chair, made a halting effort before June 30 to contact other union branches around Bootle and to hold a public meeting ahead of the strikes. We made a little headway, but as
I've mentioned in a previous post
, it's my intention to ramp things up ahead of the next round of strike action. We really need to increase rank-and-file involvement in both action and decision making in order to make it more difficult for union leaderships to sell us out if not to sideline them completely.
As such, at today's AGM I moved the following motion;
That this Autumn General Meeting notes the severity of the current attack on pensions. Not only is being asked to pay more and work longer to get less a fundamental attack on our terms and conditions, it is part of a wider assault upon jobs, pay, conditions and public services.

This AGM further recognises the need to fight back in order to defend pensions and stop further attacks. Only by sticking together and taking action can we hope to stop the government in its tracks.

This AGM therefore fully endorses the coordinated strike action on November 30 and instructs the branch to adopt the following campaign strategy:

To make contact with all other union branches and political organisations in the Bootle area
To call a Public Assembly of union members and service users in Bootle ahead of the November 30 strikes
To elect a Bootle Strike Committee at that meeting in order to coordinate action locally
To build mass support for picket lines on November 30
To call a strike-day Public Assembly so that strikers can have their say on the next steps in the campaign
The success of such a strategy will depend upon all the affected unions being willing to take part, and with luck we will be meeting with them soon in order to urge them to support this strategy. If they can build for it in their branches - as well as in the wider area amongst claimants and service users - we should be able to create something quite impressive. Nonetheless, the starting point for this was getting the members to vote on it and have their say, rather than acting without a democratic mandate.
I moved the motion with the following speech;
As most of you will have seen by now, the TUC has called a "day of action" for November 30. This potentially means that thirteen or more unions representing around 3 million people could be on strike on the same day over the attacks on public sector pensions. That includes PCS and the other three unions which joined us on June 30.

The argument in favour of striking is unanswerable. As far as pensions go, we're being asked to work longer and to pay more contributions, in order to get a worse pension when we retire. But that's not all. The head of the CBI has been quite plain in stating that public sector pensions need reforming in order to pave the way for privatisation. They want as much of our jobs farmed out to the private sector as possible, which will be bad news for service users just as much as for workers. There's already been an announcement that they want to trial this in contact centres, and we all know that if we give the bosses an inch they'll take a mile.

So we need to strike to defend our pensions. But we also need to strike because pensions are the first domino. The heads of business, and the governments who serve them, don't believe in frivolous things like the welfare state or decent working conditions. We have these things in the first place only because people were willing to fight for them, and we'll keep them only as long as we are willing to fight for them.

November 30 is an important part of that fight. It's potentially the biggest strike in a generation and the first time the entire public sector's been out since the 1926 General Strike. But the important part isn't that some trade union leaders in suits agreed to a strike date whilst they were down in London – the important part is us, the workers and union members who will be taking the action.

This fight belongs to all of us. It's our pensions under threat, and with them our jobs, our living standards and our pubic services. We all need to take an active part in the campaign. This means joining the pickets and marches and rallies, but it also means having your say on where we go from here.

I've spoken to a number of people who've said that a one day strike isn't enough. I agree. From the conversations I've had it seems a lot of people think the same way. But whilst we're happy to grumble about that, we're not coming together to demand more and so it's not happening. If you think things could be done better or differently, don't be afraid to speak up. We should be having that kind of strategy debate in meetings and voting on it so we can demand that action takes a certain course.

But even within the action that we've got, there's more that can be done. There's an old saying that "the longer the picket line, the shorter the strike." Obviously, November 30 is only one day, but as it's a rolling campaign the same logic applies. The government and media will always play down support for a strike to try and dismiss it or encourage people to cross picket lines, and that's easier if most of the people on strike stay at home.

But if we're all on the picket line, it's a lot harder to sell the lie and the words ring hollow. If we're all attending meetings ahead of the strike, if we're making demands through a strike committee that we've elected, and coordinating our action across an entire community, the lie simply falls apart. Not to mention that there's less people to hear it anyway.

June 30 was incredibly well supported. Hardly anyone crossed the picket line. Nearly every passing car and bus beeped in support. Thousands of people joined the march and rally in Liverpool, where people cheered on the streets as we went by and people came out of pubs to chant and wave and roar in support of the strike. Despite the barrage of propaganda on the news and from the government – who couldn't make their mind up whether the strikes had hardly any effect or had been overly disruptive, by the way – the overwhelming sentiment of people who we spoke to on the picket line was "I'm glad somebody's fighting back!"

So let's do it again. Let's ramp up the pressure on the government and show them that we won't take these attacks lying down. Please support the motion, give these bastards a fight!
The support that this got was incredibly encouraging. Not just the enthusiastic applause (though as someone who's not a confident public speaker I must admit that did give me a thrill!) but also the enthusiasm and passionate debate it sparked in what had been a quite muted meeting.
In the discussion that followed, most of the people who spoke picked up on my saying that a single day of strike action not being enough. Various alternative strategies were offered, pleasingly by people who weren't reps or known militants, and there was a considerable appetite for a fightback and causing disruption beyond the official one-day action. I pointed out after this that although it would be technically illegal, a mass assembly on strike day could decide on even something as simple as not going into work before 10 o'clock the next day and achieve success with it - as long as we all stuck together.
This again got cheers and applause. Especially when I pointed out that, whilst individual discontent with the National Executive Committee's strategy could be ignored, by organising effectively to place demands on how we want the campaign to progress and by encouraging similar tactics across other branches we could make sure that our wishes weren't ignored.
I sincerely doubt that this is what PCS wanted when they put together the national campaigns committee briefings that I and others attended recently. Especially as PCS Vice President John McInally made a point of saying that "whilst we can all disagree and debate in here, as a democratic organisation, in public we need absolute discipline." He's not wrong - that's
exactly
what the leadership need in order to avoid being outflanked from below. But I have no interest whatsoever in helping grant that wish, as whilst there
is
a leadership my view is that they need to be in constant fear of a militant rebellion from the rank-and-file. We need to make it as difficult as possible for them to sell industrial peace.
It is heartening to see that, even if they don't use those terms or identify as militant workers, I seem to be far from a minority amongst the members of my branch even if I am amongst reps and in the PCS hierarchy. At the very least, there should be enough potential there to build on that we really can give the bastards a fight. Those at the top of the union as well as those in government.