The much vaunted follow-up to
the June 30th pensions strike
, it has now emerged, will be on
November 30th
. Subject to ballots, the number of unions on strike will more than double from J30 and around 3 million people will be taking part in walkouts. As we face that prospect, the emphasis must now be on effective mobilisation and building.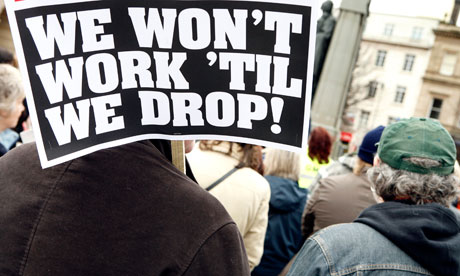 We know the limitations. In announcing the decision, Brendan Barber fell far short of declaring a public sector general strike, instead opting for "day of action." Whilst "some unions will be asking members to take industrial action, others might want to show support in other ways, through lunchtime meetings, rallies and events." Then there is the fact that it is only 24 hours, reducing it once again to a protest strike rather than one that can cause significant economic damage.
Nonetheless, what we do have is a chance to build so that rank-and-file militants can push beyond these limitations. At the top of the unions, leaders are considering tactics not to defeat the government's programme but to force it to include them. All have been quite clear that engaging in "meaningful negotiation" will end the strikes, and we know that this means an orderly retreat as the unions get to keep a hand in managing the decline of our terms and conditions. In order to prevent them getting that chance, and to have an effective answer to the attacks on our class, workers need to organise on the ground.
This means the building of local strike committees, to coordinate action within any given locale. It means public meetings where workers and communities are given the chance to have their say in how the action progresses. It means mass picket lines and strike meetings where the workers taking action can make demands about what happens next. It means generalising the strike where circumstances allow, and bringing those outside the public sector into the dispute.
This is exactly what I intend on doing where I work and in the surrounding area. At today's Liverpool Against The Cuts meeting, I agreed to coordinate leafleting there for the protest against the Tory Conference on 2nd October. This will obviously help increase the attendance at that demo, but it will also be a perfect opportunity to expand the contacts we made during our first foray into this area ahead of N30.
We are not on the brink of revolution, or even of the kind of general strike that could collapse the government. But events are moving, and it is no good to bemoan their limitations from the sidelines. For militant workers and libertarian communists, the task is to address the contradictions through action and by waging class war from below.