Last Tuesday John Foley -
a long-time campaigner against exploitation by Ryanair
- took to the roof of Liverpool John Lennon Airport. This was the latest in a number of daring stunts with the aim of increasing awareness of how the airline exploits its employees.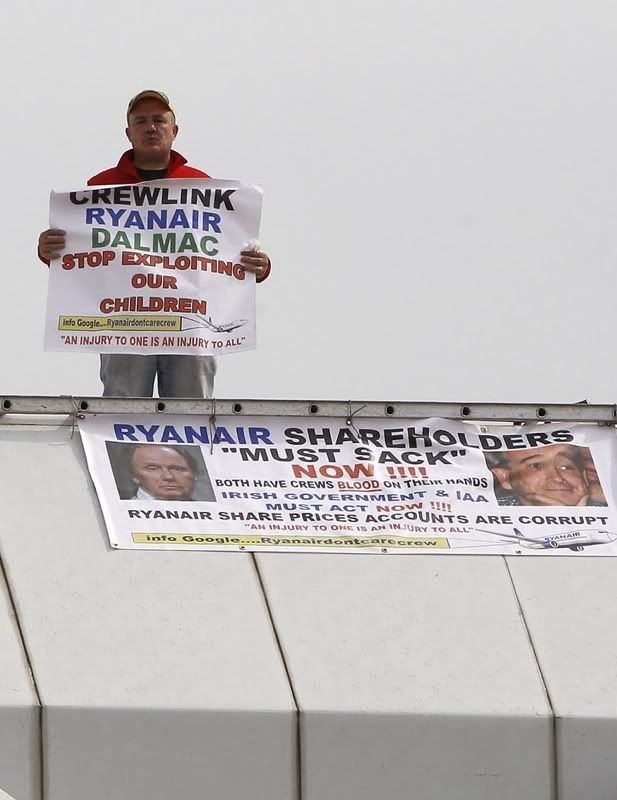 John is the founder of the
Ryanair Don't Care Campaign
, which aims to highlight in particular the airline's recruitment-for-termination scam. New cabin crew recruits are charged 3000 euros for their training and sacked at short notice before their probationary period has ended. You can see videos of John talking about the exploitation
here
and
here
.
The direct action protest is to highlight the recruitment-for-termination policy of Ryanair towards young students wishing to follow their dream as cabin crew. Wrecking so many young lives for profit must stop and we call on all shareholders to sack the whole board at Ryanair NOW.

Direct action protests will continue at all airports where Ryanair do business...

We would also like to thank Liverpool Solidarity Federation for their continued support for our campaign.
This latest protest was met with a news blackout at the behest of the police. As such, Liverpool Solfed have been the only ones to provide coverage of the event. They
report
that "the airport's management has particular reason to be concerned as they only realised John was on the roof of one of their buildings after he'd been there for over an hour and a local journalist informed them."
John spent 15 hours on the roof before he was removed, and spent 26 hours in police custody. However, this has done nothing to dampen his resolve, and John has declared that he will be at the company's AGM in Dublin in September.