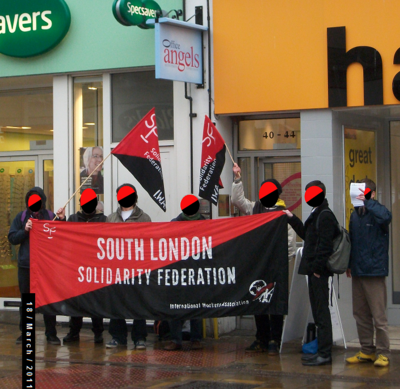 Soon after the South London local started the campaign, the
Bristol
and
West Yorkshire
locals held solidarity pickets. They soon spread to
Northampton
and
Brighton
, who
picketed the offices twice in twenty-four hours
. This became the inspiration for calling a
national week of action
, with pickets spreading to
Leeds
,
Reading
,
Manchester
,
Oxford
, and
Liverpool
.
This
was set to escalate
, and "followed by an international week of action, against both the company, and parent company Adecco, with a large number of pickets planned across the world." However, "whilst on the pickets yesterday [South London SolFed] were informed by Office Angels that they had given in and paid Dan all the wages he was owed." In response, Dan offered "a massive thank you to London Solidarity Federation particularly, and everyone else who picketed, emailed and rung. Was actually touched by everyone's support."
As South London SolFed state;
By controlling our own struggles, using direct action to fight for our rights and improved conditions, and international solidarity, we are able to build the foundations for a better world. In an era of global austerity and increased attacks on the working class this becomes even more vital. While those in power attempt to force the costs of austerity onto the working class, the only recourse left to us is to assert ourselves and directly block these attacks on our living standards.

Office Angels admitted that "many people find themselves in a position where they need to consider temporary work as a result of job loss or redundancy" leading to "in excess of one million temporary workers in the UK". The kind of practices displayed by Office Angels are sadly widespread and with the economy struggling many more workers are likely to have similar experiences. To end this we need to stand together and resist. We still want to hear from any workers taking direct action that would like our solidarity. While this campaign has been a victory, while we labour under a system that forces all of us to work and suffer for the benefit of the rich and powerful, our struggles must continue.
The only guarantee of defeat is not fighting back. This campaign is just one example of the victories yielded when we stick together as a class and stand up for ourselves. It is worth remembering as the struggles continue.