Brendan Barber, general secretary of the TUC, will be taking part in "secret" meetings with David Cameron this week. There is much speculation as to why. One thing is clear, however: that Barber has to go the way of NUS President Aaron Porter and be left behind by those he claims to "lead."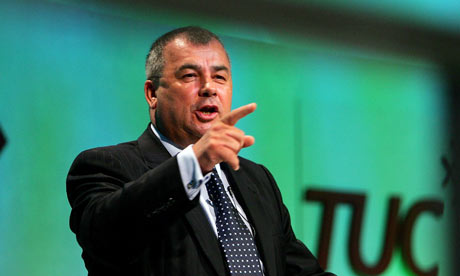 According to the
Sunday Mirror
;
DAVID Cameron is secretly planning a historic meeting with union bosses in Downing Street this week.

And the PM's talks with TUC general secretary Brendan Barber could happen as early as tomorrow.

But Number 10 has been desperate to keep the meeting secret amid fears Mr Barber could pull out if details were leaked.

There are also fears the summit could spark in-fighting between moderate and hardline unions because of savage job cuts.

It is expected Mr Barber will be offered mince pies in a desperate charm offensive by Mr Cameron aimed at heading off fresh strikes.

He could even pose for an unprecedented handshake outside Number 10 with Mr Cameron - an image that would horrify both the Tories and union members.

But a senior union source said: "We welcome the change of tone. But we still have a long list of areas where we disagree."
We should be under no illusions as to why this meeting is happening. The bureaucracy of trade unions, and especially of over-arching bodies like the TUC, is essentially just a pressure-release valve. It offers an outlet to worker discontent that poses no threat to the established order.
What we see in the tensions between moderate and hardline unions is a neccesary balancing act - between needing to fight for scraps at the social democratic table, and not wanting to engage the masses and start a real struggle lest they lose control of it. Thus, struggle within official trade union structures is deliberately confined to limited and ineffective means, such as occassional one-day strikes.
Hence Ian Bone's speculation that the meeting between Barber and Cameron will be about the national demonstration called for 26th March. The TUC no doubt intended this to assuage calls for it to take leadership whilst not posing any risk of being effective, the date being set so late in the day as far as the present struggle is concerned. However, as
Bone points out
, with "Over 500,000 on the TUC march maybe," they arepotentially "about to organise the biggest riot in our history!"
Could it be that Cameron may be a little woried about the TUC mobilising 500,000 people onto the streets in March – that the police have been having a word in his ear that they might be overwhelmed? No doubt Cameron will seek assurances from Barber about the march, the stewarding etc. No doubt Barber will provide them – or will the TUC bottlers call the whole thing off? It's a sign of how worried the government is over the wave of protests that they look to the TUC for salvation.
There can be no doubt that, even if not this week, Barber and the TUC (not to mention other union bureaucrats) will look to demobilise things from above. Whilst the student protests and the UK Uncut campaign are genuinely grassroots-led and beyond their control, they can hang them out to dry by ensuring that the workers' movement is not behind them.
This cannot be allowed to happen. If indeed the TUC does call off the March demonstration, it needs to go ahead regardless. I, for one, will be arguing and agitating to see that this happens. I hope that I won't be alone on that front.