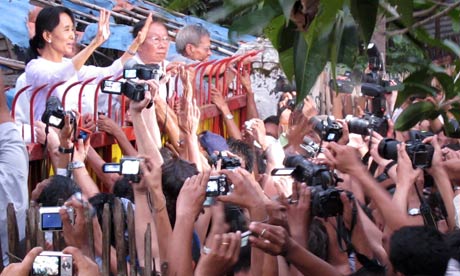 Of course, Suu Kyi's release must be seen as a good thing. As one of the most prominent political prisoners of recent times, she became a symbol of the repressive Burmese regime and the discontent of people trapped under its rule. Now free, she represents the hope that at last Burma may be on the road to substantive change and perhaps even democracy.
I have no words to say. She just sacrificed for the people, who have really suffered. This is the moment that we the Burmese people hoped for more than 20 years.

All the international leaders, not only the US president but also the Chinese president, Asean, [the] UN secretary general, Ban Ki-moon should visit Burma [as it was known then] as soon as possible.

We thank the people supporting the Burmese democratisation, but we need to have it more solid and more national reconciliation.
Indeed, whilst technically the regime is on the fifth of the seven-steps in the "
roadmap to democracy
" proposed by the
State Peace and Development Council
(SPDC) in 2003, it still has a long way to go.
As the Burma Campaign UK
notes
, there are still "2,202 political prisoners who remain in detention." Thus, it "should not be interpreted as a sign that democratic reform is on the way." For one thing, it doesn't erase a truly appalling human rights record accumulated over almost 50 years of dictatorship.
According to
Burma Campaign UK
;
Today, the most basic of globally recognized civil and political rights are not respected by Burma's generals, despite the fact that Burma is signatory to several of the most important international human rights treaties. There is no freedom of expression. Even art exhibitions must be approved by military authorities. Beyond sports and romance magazines, the few independent publications that survive are subject to severe censorship. The regime's Press Scrutiny Board orders articles even obliquely critical of official actions inked over or torn from offending issues, while state newspapers are filled with crudely virulent attacks on democratic forces.

Broadcast media are even more closely controlled. State-monopoly radio and television offer endless images of the junta's generals cutting ribbons and making speeches. Burmese do seek other sources for accurate news. International radio stations such as the British Broadcasting Corporation, the Voice of America, the Democratic Voice of Burma, and Radio Free Asia estimate that their Burmese audience is perhaps greater per capita than anywhere else in the world.

The junta's efforts to quash free expression continue. A 1996 SLORC decree provides up to 20 years' imprisonment for anyone publicly opposing the junta's policies. Under the 1996 "Computer Science Development Law;' unlicensed possession of a fax machine or modem is punishable by I 5 years in jail. These are among many repressive measures enforced without regard to international standards or Burma's own constitution. In Burma, the law is what the generals say it is; it can and does change from day to day.

Freedom of association and assembly are denied. Political gatherings are banned. Political parties such as the National League for Democracy (NLD) are closely monitored and its members harassed or arrested. Amnesty International estimates that there are at least 1,300 political prisoners detained or imprisoned under severe conditions in Burmese jails. Many prisoners have died in detention. Among the current political prisoners are victorious NLD candidates in May 1990 elections in which the NLD won over 80% of the seats.

Labor unions are not allowed. The International Labor Organization (ILO) has detailed the junta's use of massive and widespread forced labor in Burma, often under dangerous conditions. In October 2000, after repeatedly failing to receive convincing assurances that the junta is acting to end forced labor, the ILO took the unprecedented action of urging all ILO members, including governments, labor unions and employers, to review their ties to the regime.

Some of the worst forced labor abuses have been reported from southeastern Burma, where a billion-dollar pipeline is being developed by a consortium of America's UNOCAL and France's TOTAL oil companies and the Burmese regime. Forced labor has also been used on tourism development projects. In March 1997, the European Union withdrew Burma's trade privileges because of the prevalence of forced labor and other abuses.

Religious repression is another long-time feature of military rule. Burma is a predominantly Buddhist country, and the military regime demands that Buddhist clergy support its rule. Troops have invaded monasteries to remove Buddhist leaders who supported human rights and the democracy movement.

Burma also has sizable Muslim and Christian communities. Muslims in southwestern Burma are continuing targets for army attacks. Over a quarter million fled to Bangladesh during a major army offensive in 1989, and approximately 25,000 more escaped in 1997. Dozens of mosques were ransacked and destroyed as anti-Muslim riots reportedly instigated by the Burmese military flared in several Burmese cities in March 1997, and a new spate of attacks in the Arakan region was reported in late 2000. Christian churches are also closely monitored by the army, and church activities country-wide are restricted. In some border areas, especially the Chin Special Division and the Karen State, churches have been wrecked by soldiers and religious differences exploited by the junta to promote discord among minority ethnic groups.
Aung San Suu Kyi's release has not changed any of the above facts. The state remains a brutal and repressive one, and those challenging it continue to deserve our solidarity and support.
For the Burma Campaign, this means action from the "International Community." That is, it
urges
(PDF) that world leaders "should use the release of Aung San Suu Kyi as an opportunity to apply pressure on the dictatorship to enter into genuine dialogue." Further, "those countries willing to apply targeted economic pressure in support of such UN dialogue should do so."
This may indeed have the effect of pushing forward reforms, which would be a positive thing. However, we must also be aware that such reforms will only be pushed so far, and that all too often the UN - particularly at the behest of the great powers - will be content with changes that don't even reach the level of relative freedom enjoyed in the West as long as it can appease concerned onlookers and aid relations beneficial to those in power.
As such, whilst hoping that the "International Community" can press for change, we also need to be unwavering in our support of the Burmese as they try to do it for themselves. Not merely Suu Kyi and the NLD, but also the
networks of militant resistance
that have taken the fight to the junta, and spontaneous uprisings such as
that from the country's buddhist monks
in 2007.
As ever in the struggles that take place across the world, there is only one side that we can reasonably take. That of the people facing, living under, and fighting against the brutal repression by the state. As one prominent figurehead is freed, we should remember the innumerable who are not.