This month, of course, was the month that class anger finally erupted in Britain. Where the trade unions have been talking big but not living up to their words, students defied the moderate noises of their leaders to make as much noise as possible in order to build momentum for a direct action campaign.
Despite desperate media attempts at vilification,
Demo 2010
and
Day X
demonstrated the strength of numbers and militant resolve of those involved. Between and following the two events,
a slew of occupations
built upon that resolve in order to challenge the cuts through direct action. With two more days of action planned in the coming week, the hope has to be that the current momentum can be maintained, and that it can inspire other affected sectors to take up the fight with equal vigour.
One of the most telling events in the saga so far came when Fitwatch - a police watchdog and activist website - was
taken down at the request of the police
. Innumerable sites
reposted their last blog
, giving advice to students in the wake of Demo 2010, in defiance of this censorship.
Soon afterwards,
Fitwatch returned
, demonstrating that authorities still don't fully comprehend the power of social media. e-Solidarity is at least as powerful as its real-world counterpart.
According to
LibCom
, Italy has been hit by similar student actions;
Student protests literally exploded all over Italy to block the approval of the new infamous Gelmini reform, which aims at privatising the university and turning it into a profit-making machine. Thousands and thousands of students have held demonstrations all over the peninsula and occupied university buildings.

In Rome protests were held in front of the Senate and students tried to break into the building. Another group of hundreds of people broke into the Colosseum and hung a banner saying "No profit on our future". In the ancient Roman monument that was originally used for gladiatorial contests involving predatory animals, the students sang "Today we are the lions!"

In Pisa the students targeted the train station and the airport, as you can see on this energising video. A group of a dozen of people also managed to breach security at the Leaning Tower and flew a massive banner from the top which said "No to the reform. General strike".

Similarly, students occupied the port in Palermo, the Mole Antonelliana in Turin, the Ministry of Treasure in Milan, the Basilica of San Marco in Venice, and so on. The government's response has been the same we all already know: charges, violence and arrests. This hasn't stopped the protests though…

The key points of the Gelmini reform:

Grants and scholarships won't be granted anymore according to the student's family income, but merely on a "merit" basis, which is something completely new to the Italian education system. If you're poor and you're bad at school, get a job in a call centre and don't even try to go to university! Another major criteria will be the university career students choose: students who pick practical subjects that create useful workforce (e.g. Engineering) will be much more likely to get a scholarship than students who would like to study Philosophy or History. In addition, loans will be introduced on the model of British and American universities. Students will be in debt before even graduating.

Postgradute researchers, already symbol of precarious work in Italy, will be hit even harder: the reform states that any researcher who hasn't got a permanent contract after 6 years of working can and should be sacked by the same university who has been exploiting them…just like saying "If hunger is the problem, let's get rid of the hungry!"
In Portugal, a
one-day general strike
shut down the country, with planes grounded, trains cancelled and rubbish going uncollected.
As
I wrote the other day
, this action clearly "showed off the power that the workers have over the economy," but failed to deploy that power to full effect. Like the general strike in Spain, it served only as "a safety valve against genuine radicalism." Our actions have to be maintained for as long as necessary to force the bosses onto the back foot.
In America,
Labor Notes
tells us that, in Florida, "the Coalition of Immokalee Workers arrived at a far-reaching agreement with the Florida Tomato Growers Exchange."
After decades of struggle and a corporate campaign strategy, "targeting the well-known brands that purchase tomatoes from the growers," the agreement contains vital "safeguards against wage theft, including reconciling the pounds of tomatoes harvested with the pounds of tomatoes workers are paid for, and worker-operated time clocks to counter minimum-wage and overtime violations." Now, the union takes on responsibility "for worker's rights education, for monitoring the code, and for helping organize effective health and safety committees."
CIW was also able to expose and bring to court a number of slavery cases. Workers "were locked in trucks at night and suffered brutal abuse." Some workers "escaped by breaking through the air vent in a truck," bringing the case to the CIW and making headway towards some measure of justice.
Meanwhile, the Seattle Solidarity Network continues to lead by example in terms of how communities need to organise in order to defend themselves and assert their interests as a class. In this instance, the strength of collective support helped a former tenant win her struggle against a vindictive landlord.
For three years, Gladys lived with her daughter in the King Way apartments, owned by Housing Resources Group (H.R.G). One day this summer, Gladys's daughter was in a car accident. Luckily, everyone was ok. But less than four days after the accident, management had the car towed out of Gladys's private parking spot. Apparently this was part of a crackdown on damaged vehicles. Rather than personally contact her to let her know she needed to move her car, management simply placed a sticker on the car itself, which Gladys didn't happen to go anywhere near during those few days. As a result of this callous and arbitrary act, she suddenly faced an enormous towing fee. Even after the car was sold at auction and the sale price deducted, she found herself pursued by a collection agency for $547. As a low-wage worker, there was no way she could afford this.

Not long after this incident, Gladys moved out of the King Way, whereupon H.R.G. gave her yet another slap in the face: a letter saying they were taking her entire deposit, citing no reason except mysterious 'miscellaneous' expenses.

Gladys joined SeaSol. On October 1st, she and 27 others marched into H.R.G.'s headquarters and delivered a demand: settle the $547 towing bill, and return the deposit in full.

When the two-week deadline passed with no resolution, SeaSol started putting up "Don't Rent Here" posters around the King Way Apartments, warning prospective tenants about the abuses they might face from H.R.G. A few days later, we expanded this effort to cover more and more H.R.G. buildings, focusing on the largest ones which had vacancies to fill.

Soon after these actions got underway, H.R.G. mailed Gladys a response: a check for $300 in partial compensation for the towing, nothing for the deposit, and a letter arguing that she ought to accept this much and be satisfied. Gladys, furious at this, did not agree, and neither did SeaSol, so we stepped up the poster campaign and made plans to begin more serious actions soon.

At this point, an executive at H.R.G. called SeaSol and requested a meeting. Not wanting to be unreasonable, we agreed. Gladys and four other SeaSol'ers used the opportunity to explain to two H.R.G. executives (including the Director), in person, why we were standing by our original demand and would not be satisfied with less.

They went for the usual management tactic of trying to separate Gladys from the rest of SeaSol. The Director said, "Our goal is to satisfy Gladys, not SeaSol." We replied that it was the same thing. Gladys had co-signed the demand, which was for the minimum amount needed to fix the bad situation that H.R.G's actions had caused.

They asked, "How much time will you give us?". We replied that we had given them two weeks already, and that ought to be enough.

A few days later, Gladys received another check. It included her entire deposit, plus the remaining $247 in towing fees.
I have cited Sea Sol's example previously. If we are going to be successful in any attempt to challenge capitalism, particularly in the age of austerity, building up community solidarity is integral.
It appears that the trade union movement in Britain has yet to learn this, or the examples of the students and international struggles. Mark Serwotka, general secretary of PCS, has called for
solidarity with the students in occupation
. However, whilst acknowledging the "inspiration," he fails to note that the labour movement needs to follow their lead in terms of militancy and direct action.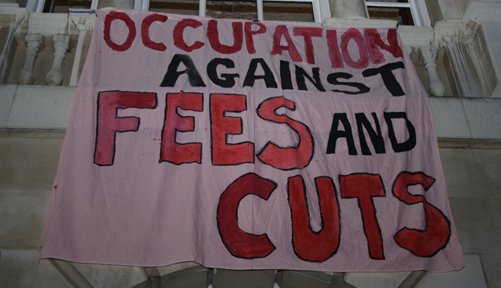 The
People's Daily
quotes Serwotka as saying that "
strikes are inevitable - mass strikes are the best way." But in concrete terms all he can offer is "
more demonstrations, more marches," which returns us to the question of passivity achieving nothing.
Likewise, new Unite leader Len McCluskey has said that "
this resistance against the cuts is only the beginning. It is time to stand up and fight back." But, in an interview with the Guardian, he betrayed that he was clearly trying to walk a fine line - sounding militant to the point of challenging the idea "
that the law is given down from Mount Sinai," only to back off with promises that "he was not going to be self-destructive."
We have seen a thousand times before that the labour movement bureaucracy is perfectly capable of sounding up for a fight when it needs to. But the
pre-disposition towards compromise and sell-out
that comes with the position all too often kicks in at the most crucial of times. Thus, workers who have stuck their necks out for a cause find that their "leaders" have let the guillotine drop for their own convenience. His eagerness to engage with Ed Miliband should be warning enough that there is no radicalism here.
There is plenty of potential for the kind of militant mass resistance that can directly challenge capitalism. Indeed, there are enough examples of people getting on with the business of fighting the class war. We now need to see that the rank-and-file continue to lead from below, without being subsumed and demobilised by the dead-weight of bureaucrats and vanguards.