Today, George Osborne revealed the outcome of the
Comprehending Spending Review
(PDF). The document did not bring the world to its knees, or cause the complete destruction of everything we hold dear. But it remains an important landmark in the escalating class war waged by those at the top.
The welfare budget is to face an additional £7bn of cuts. This is on top of the £1.8bn cuts in housing benefit, announced in
the June Budget
, and £11bn of other welfare reductions announced previously.
Bendy Girl, over at
Where's the Benefit
, expands on just one impact of this decision;
One of the quietest announcements in today's Comprehensive Spending review was that the High Rate Mobility component of Disability Living Allowance will be removed from those resident in care homes. On the face of it that might seem a sensible place to save money, after all if someone lives in a care home surely they don't need to worry about transport, but this is certainly the nastiest, pettiest cut of all. Petty because the numbers of people resident in care homes is a very small proportion of the overall awards for high rate mobility meaning the sums of money to be saved are minimal. But downright nasty, disdainful and cruel because people resident in care homes are far more likely to use the mobility component of their disability living allowance to pay towards the phenomenally expensive specialist wheelchairs they need rather than a

vehicle.
This is not the only area in which the most vulnerable will suffer either. I have previously written about
the poverty and hardship
that the disabled and families with disabled dependants face. The CSR looks set to exacerbate that, and no doubt more details will emerge as its recommendations are put into practice.
On the public service front, the government has promised to "prioritise the NHS, schools, early years provision and the capital investments that support long term economic growth." Thus, health spending will see a 1.3% real terms rise by 2015, including an extra £2bn for social care.
The positives of this settlement are as follows;
real terms increases in overall NHS funding in each year to meet the Government's commitment on health spending, with total spending growing by 0.4 per cent over the Spending Review period;
an additional £1 billion a year for social care through the NHS, as part of an overall £2 billion a year of additional funding to support social care by 2014-15;
a new cancer drugs fund of up to £200 million a year;
expanding access to psychological therapies;
continued funding for priority hospital schemes, including St Helier, Royal Oldham and West Cumberland; and
capital spending remaining higher in real terms than it has been on average over
the last three Spending Review periods.
But this is not news. We all knew that the CSR would be an attack, and that the government's agenda was class war, making us pay for the rich's crisis, etc. We expected that - and have been saying it since before they took power. All that I've done above is stick figures to arguments I already knew.
The important question, long overdue an answer, is where we take those arguments and what we do about the problem at hand. Other, that is, than offer up endless bluff and bluster.
I went to an anti-cuts demonstration outside the Royal Liverpool Hospital today. It was lively, and the people there were sincere enough, but what I saw there - and the
evidence of similar scenes across the country
- doesn't exactly fill me with confidence.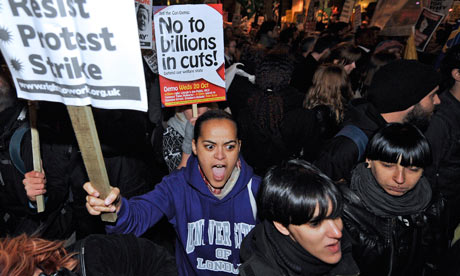 There were lots of flags and banners. People chanting and making lots of noise. Various Trot organisations hiding behind their newspapers or getting people to sign up to mailing lists under the guise of a "petition." And absolutely no indication, whatsoever, that a coherent strategy exists for anything beyond getting people to join The Party
TM
, to sign up to the appropriate front group, or to at least buy a copy of the paper.
Myself and other comrades from the Solidarity Federation have been all but banging our heads against a brick wall trying
to make the argument for something more effective
.
We are not a political party, and we only offer membership to those who agree with the aims and principles of anarcho-syndicalism, so this is not a recruitment drive. Our paper is free, so it's not about making a sale. Our only goal is to advocate a class struggle rooted in and led by the rank-and-file of the working class, with an open and democratic structure so that resistance cannot be demobilised from above, and an emphasis on effective actions rather than legal ones.
This is not a position unique to anarcho-syndicalism, either. There are many others, anarchists, socialists, and working class people concerned about what's happening, who take a similar line. But this is not a line supported by those who declare themselves our "leaders."
The Labour Party is only willing to shout and kick up a fuss now that it's in opposition. In power, it
offered similar cuts
, and even now "Red" Ed Miliband
warns against strikes
or serious action to combat the cuts. Let alone to challenge capitalism. The unions are stifled by a bureaucracy
keen to keep its seat at the top table
and terrified of illegal strike action. And the various far-left parties offering themselves as our vanguard suffer the same top-down demobilisation combined with
an absurdly insular world-view
.
The problem is that, beyond this spectacle, there are untold numbers of people with an acute, first-hand awareness of the problems of capitalism. Many willing to do something about it. But it is easy to see why, faced with the "scene," many of those who do get involved soon wash their hands of the whole thing. And why so many others avoid it all together.
The challenge is to make the argument that organisation and resistance is possible whilst by-passing all that bullshit, and building enough momentum to actually put it into practice. Especially as the fallout from the CSR looms large.