It is a scene workers are all too familiar with. In a bid for savings, the "gravy train" of rank-and-file pay and benefits is being slashed by the highest earners who remain unaffected.

However, sympathy may be muted by the fact that the workers in question are the police.
The
Telegraph
was amongst those to report that "dozens of Metropolitan Police officers dramatically increased their basic salaries last year by claiming for extra hours, leaving a bill of more than £129 million." This meant that "the Met's overall overtime bill has almost doubled during the past decade."
In response, police chiefs have
drawn up plans for cuts
;
Police chiefs are to take an axe to officer overtime and benefits signalling the end of the police 'gravy train'.




Rank and file officers have reacted with fury after radical proposals for a huge raft of cuts to shift payments and add on bonuses was leaked.




Police chiefs want to slash overtime pay in a bid to reduce the £500million a year bill to taxpayers, which has nearly doubled over the past decade despite a record increase in police numbers.




Under the new plans, overtime rates would drop from twice the regular pay - known as 'double bubble' among officers - to time-and-a-half for work on public holidays.




Off-duty officers would only be paid for the hours worked, rather than forces facing a four hour bill for only a couple of minutes work.




Currently, officers get a minimum four hours' pay at a rate of time-and-a-third simply for picking up the phone and making a decision while off duty, which means they can earn more than £100 for answering a single call.




The drastic cost cuts come as earnings of more than £50,000 on overtime are becoming commonplace.
From the Daily Mail, we can expect a considerable degree of misdirection and half-truth on this issue as any other. Their job, after all, is to repeat the propaganda line of the bosses who attack workers in order to safeguard their own position and privilege.
But it is hard to sustain anger for the police when we have so much reason to be angry at the police.
The
whitewash over the police murder of Ian Tomlinson
is just the latest example of what the institution really stands for. As Adam Ford
noted
, "the idea that police neutrally uphold democratically-decided laws has been exposed as a fiction."
It's time to wake up –these institutions do not exist to protect us but to subjugate us. They give us enough to believe we live in a free and democratic society whilst protecting capital and those who defend it. What is the use of having rights if the state determines when and where we can exercise them? We are given the right to protest when we're no threat, but refused the right to even assemble when it's most critical.
Moreover, the
Guardian
's
Marc Vallée
is one of several people to point out that "anyone who is thinking about protesting against the enforced transfer of billions of pounds from the public sector to the private sector due to the Con-Dem government's austerity measures will encounter the same police units, training, leadership, methodology and intelligence-lead policing."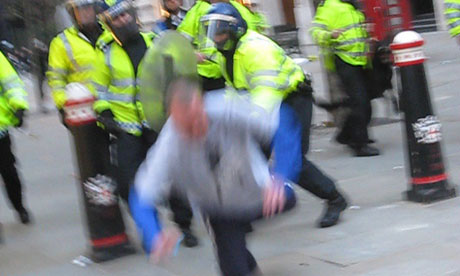 If public anger over the government's attacks on the working class emerges as anything even remotely radical, the police are the ruling class's first line of defence. Their job is to act against their class interests and either keep us in line or lock us out of the way.
Until they decide to spurn that role, they should expect no sympathy. Working class solidarity should not be reserved for those who exist to smash it.