As people around the world watched and celebrated the World Cup in South Africa, he host nation saw a wave of workers' struggles.
This included wildcat bus workers' strikes, postal strikes, walkouts by construction workers, a
miners' strike
, and the high-profile
strike by match stewards
during the world cup.
Now, the country's public sector has gone on strike.
9,000 civil servants have walked out
, and business leaders are worried that this "jeopardise the country's ability to generate a positive impression of SA as a desirable country with which to trade and in which to invest." Unions are demanding "an 8,6% pay rise (backdated to April 1), a R1000 housing allowance and the equalisation of medical aid subsidies."
Elsewhere in Africa
, Rwandan construction workers have downed tools over the non-payment of wages, and Kenyan agricultural workers walked off a farm over pay and conditions.
In the United States, Labor Notes
reports
that "from California to Maine, double-digit deficits have left civil servants with a giant bull's-eye on their backs, as politicians across the spectrum have pushed furloughs, layoffs, wage cuts, and farther-reaching measures like pension modifications as the main way to close yawning budget gaps."
What the response from the public sector unions will be is as yet unclear. However, they coulod do worse than follow the lead from other mobilisations around the US.
In response to the Hyatt corporation seeking wage freezes and increases to healthcare premiums, service industry workers have
coordinated civil disobedience
across the country. Fifteen cities saw action, and hundreds of protesters were arrested. As food server Andy Lopez said, "management needs to see we aren't going away."
Meanwhile, in the cleanup effort in the Gulf of Mexico, BP is
showing the same disregard for workers' safety
that caused the Deepwater disaster in the first place;
Today, 27,000 workers in the BP-run Gulf cleanup effort may still be in danger. Some are falling sick, and the long-term effects of chemical exposure for workers and residents are yet unknown.

Workers lack power on the job to demand better safety enforcement. They fear company retaliation if they speak out and are wary of government regulators who have kept BP in the driver's seat.

BP has said it will provide workers with respirators and proper training if necessary, but the company has yet to deem the situation a health risk for workers. The Louisiana Environmental Action Network (LEAN) provided respirators to some workers directly, but BP forbade them to use them.

One rationale behind banning respirators is that they could increase the likelihood of heat-related illnesses, but Kindra Arnsen, an outspoken wife of a sick fisherman turned cleanup worker, points out that many workers are fishermen accustomed to the Gulf heat who can work safely given enough hydration and time for breaks.

Workers who question the safety of their assignments, choose to wear their own safety equipment, or speak out about the risks are threatened with losing their jobs, according to Arnsen and LEAN's executive director Marylee Orr.

Arnsen has also spoken out in fear for her community of Venice, Louisiana. She describes illnesses and rashes her young children and husband have suffered since the explosion and cleanup and says there are days when officials tell residents to stay indoors.
Competing against the PR power of BP, and a mass media unconcerned with such issues, this threatens to be a long uphill struggle. Those involved need the solidariy of fellow workers every step of the way.
In China, the convergence of workers and environmental disputes
continues
;
More than 1,000 people threw rocks at police and blocked roads in southern China in protest at pollution from a plant owned by one of the country's largest private aluminium producers, state media said on Thursday.

The Chinese government has become increasingly worried about rising public anger at environmental problems, especially pollution.

The official China Daily said that in the latest incident, more than 1,000 villagers in Jingxi county, in Guangxi near the border with Vietnam, took to the streets on Tuesday to protest against the Shandong Xinfa Aluminum and Power Group plant.

"Almost all the residents in Lingwan village were involved in blocking the road to Jingxi county on Tuesday afternoon, and some villagers threw stones at police who had been sent by the Jingxi government," it cited a government statement as saying.

"One official hit by stones was sent to the hospital, but no other injuries were reported," the newspaper added.

Residents also blocked the gates to the plant and damaged some production facilities before dispersing.

"Villagers have been very unhappy for a long time about the pollution caused by the plant," it quoted local government official Qin Weifeng as saying.

The newspaper said the Xinfa is one of the three largest producers in Jingxi, in an area known for production of bauxite and alumina, the raw material for aluminium. China's rapid growth has caused many environmental problems, and prompted growing concern among citizens about health problems caused by pollution.
In Greece, a
nationwide strike by truck drivers
is "threatening fuel, food and medical shortages across the country."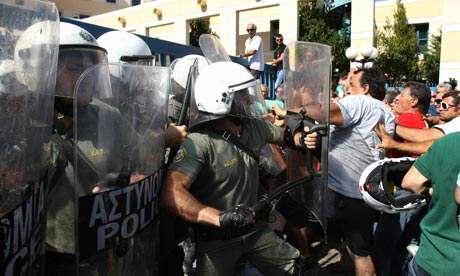 Prime Minister George Papandreou issued a civil conscription using emergency legislation for only the fourth time since the end of military rule, but they have
defied the order
.
According to the
truck drivers themselves
, "we continue. Let them take us to prison. We have nothing to more to lose. If the government thinks that after two days of strike it can move to such measures instead choosing dialogue, it carries all responsibility."
This is the attitude that workers around the world need to take as we are faced with near-universal attacks to save capitalism. They only call it class war when we fight back, but we need to do just that.