For the people of Iran, this past month has been one marked by
rioting and unrest
. They came to a head with the
death
of Grand Ayatollah Hoseyn Ali Montazeri, a leading
critic
of President Mahmoud Ahmadinejad. At his funeral, according to
BBC News
, "police used tear gas and batons to disperse people gathering to commemorate Grand Ayatollah Hoseyn Ali Montazeri." This action led to fierce clashes.
Security forces in Iran have arrested a number of prominent critics of the government in the wake of opposition protests that left as many as eight people dead in Tehran, the capital.

Ebrahim Yazdi, who served as foreign minister in the early months of Iran's 1979 revolution, and Emadeddin Baghi, a human rights campaigner and journalist, were arrested on Monday, according to the pro-opposition Rahesabz website.

There were also reports that two aides to Mohammad Khatami, a former reformist president, and three advisers to Mir Hossein Mousavi, an opposition leader, were detained.

Security forces reportedly stormed a series of opposition offices in an apparent crackdown following fierce clashes at street protests during the Shia Muslim commemoration of Ashoura.

Seyyed Ali Mousavi, Mousavi's 35-year-old nephew, was among the eight people killed, with the Parlemannews website saying he was shot during clashes at Tehran's Enghelab square "and was martyred after he was taken to Ebnesina hospital".

State television attributed his death to "unknown assailants".

Although Montazeri's death is the immediate cause of the latest unrest, it is
the recent election
that has catalysed this spirit of rebellion amongst the Iranian people. Claims of
fraud
,
vote-rigging
, and
political violence
has motivated people to take to the streets in their thousands and challenge the government.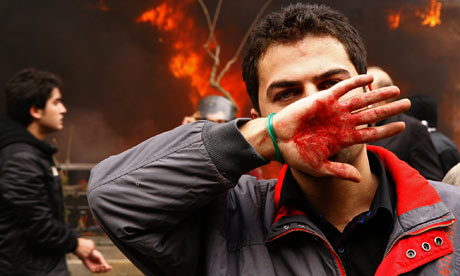 Of course, Iran being an official enemy, the ongoing unrest has been picked up by western media in a way that
unrest in Greece
hasn't. Condemnation of "
violent and unjust suppression
" in Iran by the White House has a distinctly political air to it in the context of
joint oil-field deals with Iraq
and the
proposed sanctions
running through Congress against the Iranian nuclear programme. As such, the Iranian protests serve as a convenient political footbal for the US, whilst that fact serves the same purpose for the Ahmadinejad presidency.
In the midst of such a propaganda war,it becomes difficult to make predictions of what will happen next. The arrests and suppression of dissent make it appear likely that the Ahmadinejad regime will prevail, though the sheer refusal of the protesters to back down offers a hint of lasting and concerted efforts against the repressive Iranian state.
As Simon Tisdall writes in the
Guardian
, the events of the past few months set an important precedent;
With every fatal bullet, with every ill-directed teargas canister and every ill-advised arrest, the heirs to Ayatollah Ruhollah Khomeini and the Islamic coup d'etat of 1979 find themselves stranded ever more invidiously on the wrong side of history.

Those who rose up with fervent courage to bring down the Shah 30 years ago are now cast in his vacated role of national oppressor, with their own revered martyr, Imam Hossein, used against them to dramatise the cruelty and inequity of their rule.

The fanatical students who drove an American president to ruin, the faithful warriors who faced down Saddam Hussein and his western backers during eight years of war, the ideologues who uniquely placed their supreme leader, the Vali al-Faqih, on the right hand of God, have now themselves become the establishment they so abhorred – incompetent, corrupt, and reviled.

"We will fight, we will die, we will get our country back!" chanted Tehran street protesters on Sunday, holding high their ribbons of green as if, magically, they would protect them from flying bullets and batons. "Yazid [the hated Caliph who martyred Hossein] will be defeated ... This is a month of blood!"

...

The recent detentions of American hikers and British yachtsmen are in line with Tehran's practice of externalising its problems in order to deflect attention from domestic failures. The regime uses international concern about its nuclear activities and missile tests in much the same way, whipping up anti-western sentiment at home, painting a picture of a heroic Islamic republic beset by snarling infidel foes, and thereby tightening, in theory, its grip on power.

What's changing, as the battle lines sharpen, is that fantasy politics and paranoid posturing can no longer conceal the widening fissures – economic, social and ethnic as well as political – that are splintering Iranian society.

Maybe the regime can still cling to power. But the legitimacy of Khomeini's republic is all but shot. The infallibility of the Vali al-Faqih is blown. The "month of blood" is upon them.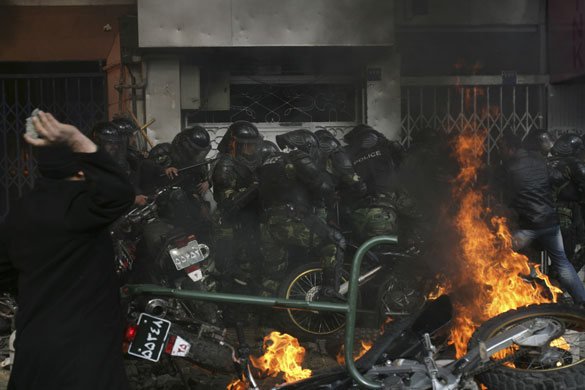 The people of Iran need, now, to forge their own path. We cannot predict the future, whether this uprising will gain momentum or be beaten down by a combination of state violence and increasingly bellicose western rhetoric playing into the hands of Iranian propagandists. But we can express a hope of how things might turn out.
If Iranian rebels are willing to fight and die to get their country back, then they must learn the lessons of the past. The
uprising against the Shah
in 1979 was a just and neccesary one. But by allowing the banning of Islamic symbols, rather than increasing authoritarianism and inequality as a US-UK client state, to define it, the revolution surrendered to the force of reaction. It was then, not in the recent elections, that the regime the people rebel against was born.
If they are to succeed and to determine their own future, the people of Iran need neither reform nor reaction but revolution. And if they are to pull their country from the tradition of despotism that has gripped it since 1941, it must be a revolution for the Iranian people, not Western profit sectors nor another sect of authoritarianism. With such a goal in sight, the "month of blood" deserves our solidarity.