Yesterday evening, family and friends held a memorial service in the Exarchia district of Athens to mark a year since the
murder
of teenager Alexandros Grigoropoulos by police. In the year since, Epaminondas Korkoneas was
indicted
for intentional manslaughter, and Greece has borne witness to riots, repression, protests, occupations, street battles, and fascist violence.
Now, according to the
BBC
, "clashes have broken out between police and protesters in Athens as the city marks the first anniversary of the fatal police shooting." Although "the protests are nothing like the riot scenes of last year," "aggressive tactics have not endeared police to protesters." This after "riot police carried out a series of raids on Saturday across Athens, arresting more than 150 people," supposedly to "head off trouble."
The slogan of the protesters is simple: "we won't forget, we won't forgive."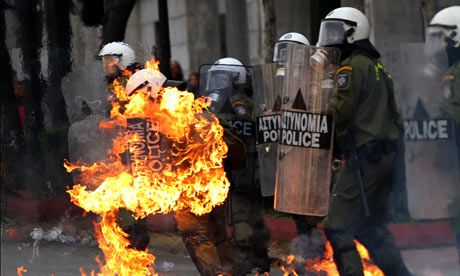 Police have been quick to point to the fact that "up to 150 foreign anarchists arrived this weekend from Italy, France and other European countries" as a precursor to the violence. However, as
Al Jazeera
reports, the clash was distinctly uneven, with "
stone-throwing protesters" facing off against "p
olice in full riot gear," who "
fired tear gas to disperse small groups of hooded youths."
It was only within fortified areas, such as the university campuses, that protesters were "
armed with many bricks, stones, Molotov cocktails, and catapults." However, given the climate of repression in the country, even after the ascension of the new "socialist" government, and the organised fascist paramilitary actions (amongst other things) that the past year has seen, it could be considered foolhardy to not arm yourself against the state. The fact that a journalist was amongst those injured by police and that protesters were beaten and manhandled certainly bears this presumption out.

"It's been a year since police murdered the boy and the government which caused the murder has collapsed but nothing has changed in terms of police brutality,"
as one university employee told Reuters,"w
e want more jobs, more education and no more police."